GSD Korea: Stretched and High Brightness Displays
GSD (Gumi City, Korea) stretched displays, also known as resized, bar-type, ultrawide, or cutting, are a perfect fit for those applications with reduced space where the standard aspect ratio displays cannot fit. Within a very delicate and highly professionalized process performed in a class 1000 clean room, and under an official license permit, GSD cut the Open Cells and LCD panels to meet each customer desired size. After this, they design and build the backlight and mechanics if needed. From standard to high brightness models, GSD panels are used in a wide range of applications such as: Gaming, Passenger Information, Broadcasting Displays, Avionics, etc.
Ultra Wide screen
LED Backlight
Various custom design sizes: 15.0″ to 55.0″ (Original base panel size)
Orientation: Landscape / Portrait
Product category: LCD panel with LED driver / LCD panel with ADBoard kit / Open Frame monitor / Chassis Type monitor
Other options: brightness enhancement, RS232 control, dimming sensor, PCAP touch, Android Board, Daisy Chain Board, etc.
LCD panel (with or without ADBoard kits)


Option 1: LCD with LED driver only
Option 2: LCD with AD board kit (inputs: RGB, DVI, HDMI, DP, USB)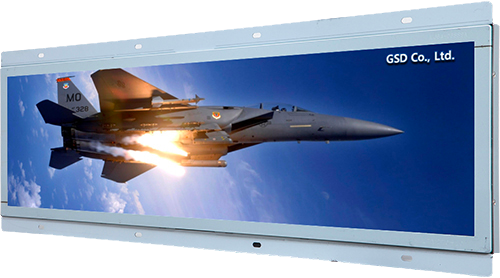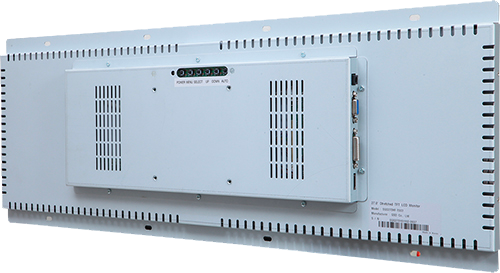 Chassis Type or Closed frame monitor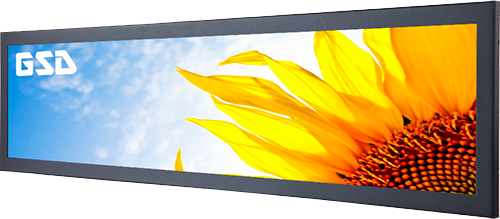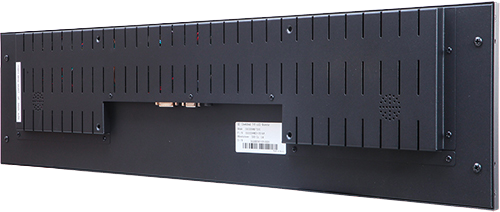 Gaming Button Deck
Passenger Information
Avionics
Vending Machines
Broadcasting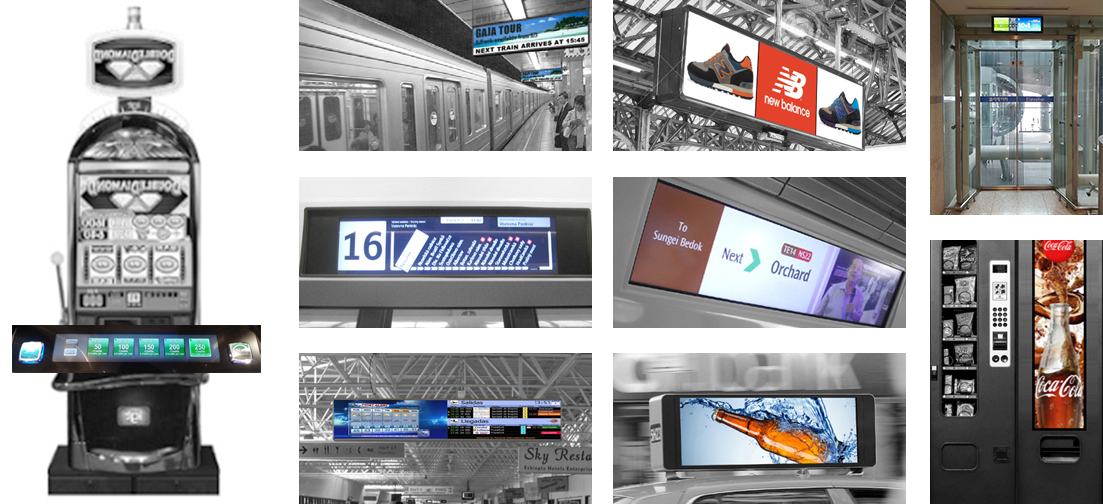 Model
Display size
Active area (mm)
Resolution
Brightness(cd/㎡)
View angle(R/L/U/D)
Outline Dimension (mm)
Availability
JL150AT256
12.3″
304.1×76.0
1024×256
250
85/85/80/80
326.7×101.5
MP
(15.0″ 1/3)
300 / 700
85/85/85/85
326.3×101.4
JL170AT398
13.9"
337.9×105.1
1280×398
300
85/85/80/80
358.5×131.3
MP
(17.0" 2/5)
JL185AT238
16.3"
409.8×71.4
1366×238
250
85/85/80/80
431.8×95.6
MP
JL185AH238
(18.5" 1/3)
500/1000
430.4×95.6
JL190BT342
17.3"
374.8×100.1
1280×342
250
89/89/89/89
396×124.3
MP
(19.5" 1/3)
JL190AT390
15.5"
376.3×114.7
1280×390
250
85/85/80/80
396.0×138.6
MP
(19.0" 2/5)
JL215AT360
19.1"
476.6×89.4
1920×360
250
89/89/89/89
495.6×114.9
MP
JL215AH360
(21.5" 1/3)
700
JL215AH510
19.4"
476.6×126.6
1920×510
1000
89/89/89/89
495.6×150.7
MP
(21.5" 1/2)
JL215AT539
19.4"
476.6×133.8
1920×539
250
89/89/89/89
495.6×158.2
MP
JL215AH539
(21.5" 1/2)
700
JL215AT640
19.8"
476.6×158.9
1920×640
250
85/85/80/80
495.8×183.1
MP
(21.5" 3/5)
JL238BT1080
21.6"
527.0×148.2
3840×1080
300
89/89/89/89
545.0×175.2
MP
(23.8" 1/2)
JL230AT818
21.79"
509.2×216.9
1920×818
550
89/89/89/89
533.2×244.0
MP
(23.0" 3/4)
JL270CH540
24.45"
597.9×168.1
1920×540
500
85/85/80/80
630.0×203.0
MP
(27.0" 1/2)
JL320SH360
28.0"
698.4×131.0
1920×360
700
89/89/89/89
725.2×160.8
MP
(32.0" 1/3)
JL320SH540
28.5"
698.4×196.4
1920×540
700
89/89/89/89
725.2×226.3
MP
(32.0" 1/2)
JL550AH359
48.45"
1209.6×226.2
1920×359
450
89/89/89/89
1235.6×252.8
MP
(55.0" 1/3)
1500
JL550AH539
49.46"
1209.6×339.6
1920×539
700/3000
89/89/89/89
1236.0×367.2
MP
(55.0" 1/2)