Custom solutions tailored to your needs.
The innovative GSD resized LCD screens (JL series), also known as bar screens, are not subject to a space limit and have a striking effect. Our products have a custom aspect ratio, such as 16: 3, 16: 6, 5: 2, 2: 1, etc. It has focused on various applications, such as gaming machines and vending machines, as well as the replacement of conventional LED signage.
By integrating GSD professional cutting and high brightness technologies, you can also expand your field of application to the foreign market.
Ultra Wide screen
LED BLU
Various custom design sizes: 15.0 "to 55.0" (Original base panel size)
Placement Effect: Landscape / Portrait, Tilling
Product category: LCD / LCD kits / Open frame monitor / Closed frame monitor / touch monitor
Options: brightness improvements of up to 3,000 cd / m2 for outdoor applications
High brightness LCD panel


Resized LCD panel (with LED controller)
Option: A'D board kits (RGB, DVI, HDMI, DP, USB input)
Open frame monitor (Section: left, right & up, down)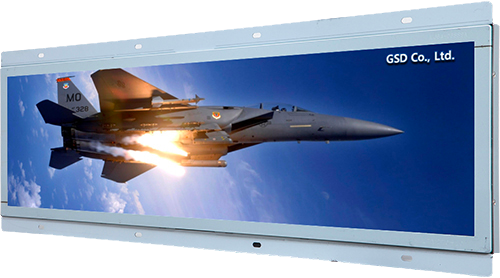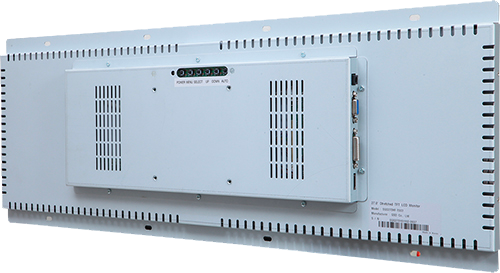 Closed frame monitor (chassis type)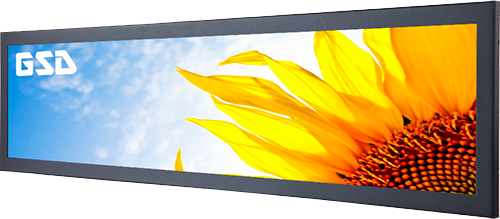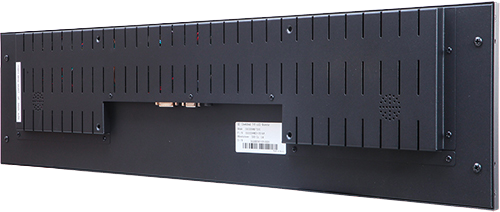 Button screens for games
Traffic information
Public information
Vending machine
Mall
Cab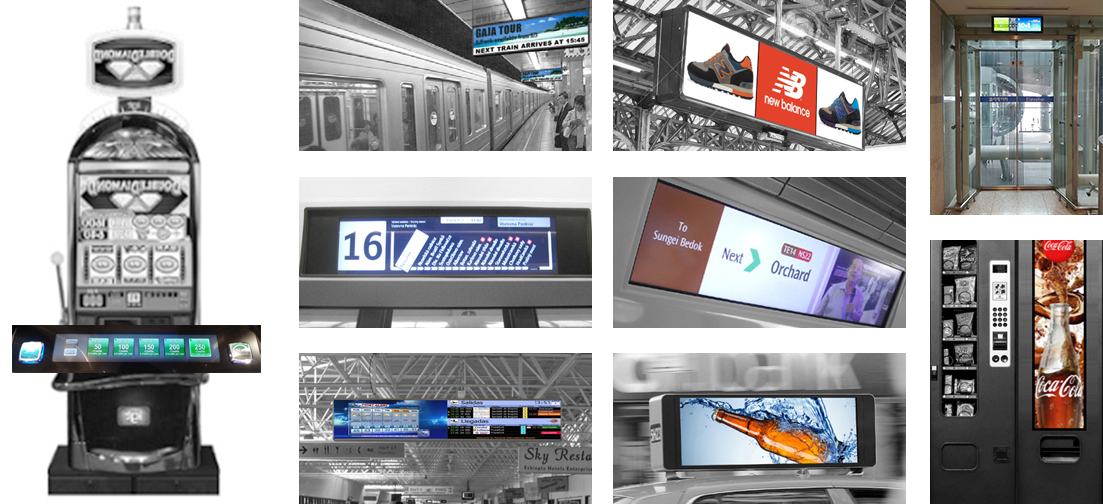 Model
Display size
Active area (mm)
Resolution
Brightness(cd/㎡)
View angle(R/L/U/D)
Outline Dimension (mm)
Availability
JL150AT256
12.3″
304.1×76.0
1024×256
250
85/85/80/80
326.7×101.5
MP
(15.0″ 1/3)
300 / 700
85/85/85/85
326.3×101.4
JL170AT398
13.9"
337.9×105.1
1280×398
300
85/85/80/80
358.5×131.3
MP
(17.0" 2/5)
JL185AT238
16.3"
409.8×71.4
1366×238
250
85/85/80/80
431.8×95.6
MP
JL185AH238
(18.5" 1/3)
500/1000
430.4×95.6
JL190BT342
17.3"
374.8×100.1
1280×342
250
89/89/89/89
396×124.3
MP
(19.5" 1/3)
JL190AT390
15.5"
376.3×114.7
1280×390
250
85/85/80/80
396.0×138.6
MP
(19.0" 2/5)
JL215AT360
19.1"
476.6×89.4
1920×360
250
89/89/89/89
495.6×114.9
MP
JL215AH360
(21.5" 1/3)
700
JL215AH510
19.4"
476.6×126.6
1920×510
1000
89/89/89/89
495.6×150.7
MP
(21.5" 1/2)
JL215AT539
19.4"
476.6×133.8
1920×539
250
89/89/89/89
495.6×158.2
MP
JL215AH539
(21.5" 1/2)
700
JL215AT640
19.8"
476.6×158.9
1920×640
250
85/85/80/80
495.8×183.1
MP
(21.5" 3/5)
JL238BT1080
21.6"
527.0×148.2
3840×1080
300
89/89/89/89
545.0×175.2
MP
(23.8" 1/2)
JL230AT818
21.79"
509.2×216.9
1920×818
550
89/89/89/89
533.2×244.0
MP
(23.0" 3/4)
JL270CH540
24.45"
597.9×168.1
1920×540
500
85/85/80/80
630.0×203.0
MP
(27.0" 1/2)
JL320SH360
28.0"
698.4×131.0
1920×360
700
89/89/89/89
725.2×160.8
MP
(32.0" 1/3)
1000
JL320SH540
28.5"
698.4×196.4
1920×540
700
89/89/89/89
725.2×226.3
MP
(32.0" 1/2)
1000
JL550AH359
48.45"
1209.6×226.2
1920×359
450
89/89/89/89
1235.6×252.8
MP
(55.0" 1/3)
1500
JL550AH539
49.46"
1209.6×339.6
1920×539
700/3000
89/89/89/89
1236.0×367.2
MP
(55.0" 1/2)